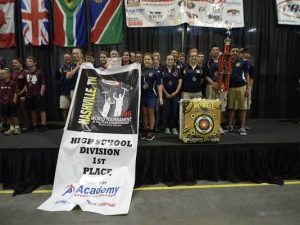 Seventy-eight teams and almost 5,000 archers from across the globe arrived in Nashville, Tenn., in late July to compete for a world championship. Yet it was the group of 24 from Hartland that would leave with the ultimate distinction.
The Hartland archery team, coached by Rob Jellison, racked up a total score of 3,447 at the 2015 National Archery in Schools Program World Championship last month to earn the title of best program in world. Karls, with a solo score of 298 — two shy of perfection — earned the title of world's best shooter, standing alone atop a field of 4,871 competitors.
Although archery is essentially an individual team sport, that instant team chemistry went a long way to fueling the Eagles to world champion status. No one wanted to let their teammates down, especially on the grant stage.
This is what #1 in the World looks like:
Karls (298), Connie Keech (292), Sawyer Bulloch (291), Vivian (291), Daniel Sapp (289), Nicole Tschirret (288), Collin Pajot (288), Garet Fyke (284), Sarah Bragg (283), Rebecca Paris (282), Betty Jellison (281), and Jacob Popp (280) combined for a world-best score of 3,447 — the perfect score being 3,600.
Everyone from Hartland returned excited. And while some might have started off a bit skeptical, considering the team had a few top archers sitting out, they were thrilled to be making the return trek to Michigan on top of the world.
Follow this link to the news segment that aired on WDIV channel 4.
http://www.clickondetroit.com/community/hartland-archers-bring-home-world-championship/34809966
Congratulations to the Hartland Archery team, Families & Sponsors